Crowdfunded Librem 5 ramps up development to now offer users three fully free and open mobile operating system options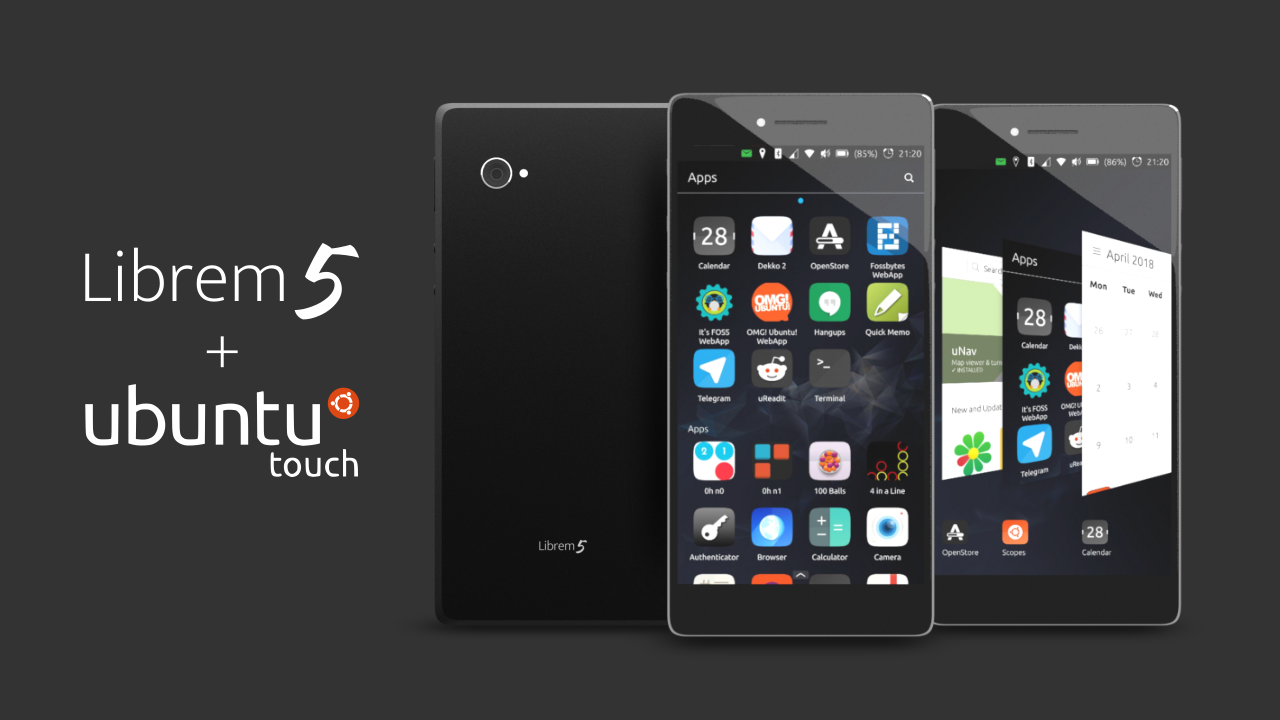 San Francisco, California – April 24, 2018 — Purism and UBports are partnering to offer Ubuntu Touch as a supported operating system on Purism's Librem 5 smartphone.
Being able to work with Purism and focus on the Librem 5 hardware platform ensures that the Ubuntu Touch mobile operating system developed by UBports will be well supported, tightly integrated, and that future compatibility will remain. When the Librem 5 is delivered to pre-order customers, it will become one of just a few smartphones that support the free and open source operating system.
Leveraging the sizable interest generated from the 2013 Ubuntu Edge campaign that fell well short of its astronomical crowdfunding goal, Purism, the manufacturer building and delivering high-quality freedom-respecting laptops, successfully raised over $2 million last Fall, allowing the company to begin building the first fully free and open modern smartphone: the Librem 5.
While the Librem 5 will ship with Free Software Foundation-endorsed PureOS by default, utilizing GNOME across all devices, Purism will support customers who want to easily install Ubuntu Touch offering great diversity for users around the world. In addition to UBports, Purism is working with GNOME and supporting KDE Plasma Mobile, rounding the user choices to three options come January 2019 when the Librem 5 will be shipping to customers:
Librem 5 with PureOS
Librem 5 with PureOS (KDE Plasma Mobile)
Librem 5 with Ubuntu Touch
Marius Gripsgård

"Having Ubuntu Touch working by default on a mobile phone such as the Librem 5 is an ideal approach to offer ease-of-use to people while increasing our install base" says Marius Gripsgård founder and chairman of the board of UBports. "Partnering with Purism will allow us to advance UBports for well supported commercial devices for the first time. The Librem 5 will be the ideal hardware for Ubuntu Touch, particularly as it will not require an Android subsystem."

Ricardo Mendoza

"Having early access to Purism's Librem 5 hardware platform is a huge step for advancing Ubuntu Touch," says Ricardo Mendoza, deputy chairman of the board at UBports. "Ubuntu Touch was developed with the goal of being an Android-free OS alternative for the mobile ecosystem. We believe the future of mobile is away from Android, and the Librem 5 with Ubuntu Touch presents the perfect platform to spark this revolution."

"Having Ubuntu Touch shed Android entirely and utilize our hardware is a win for users," says Todd Weaver, CEO of Purism. "While we develop, support, and recommend PureOS, allowing an alternative to users that is supported by Purism can only help the cause of improving digital rights for users."
About UBports and Ubuntu Touch
Ubuntu Touch is a mobile version of the popular Ubuntu desktop operating system that was originally created by Canonical. With the support of the UBports Foundation, Ubuntu Touch is now completely developed and maintained by its community, which is made up of people who are passionate about privacy, freedom, and helping others. These ideals factor into the development process at every level. The ultimate goal of Ubuntu Touch is a converged device experience by having a phone/tablet, laptop and desktop on a single, privacy-oriented device.